Scrappy Superpowers: 5 years of SaaSySales
As the founder of a growing business having recently raised a Seed - Series A Round, you are more than likely wearing 15+ different hats every day. One of the most important hats is the Sales Hat. Unfortunately, because sales are so dependent on your own efforts, the process isn't scalable or ready for the next level of business growth. Sound familiar?
It's okay to be hesitant about hiring your first full-time salesperson, but there's an alternative that takes sales off your plate and eases into your first full-time sales hire. The solution is as simple as bringing in an outside perspective to audit your sales strategy, run through sales motions, and unlock your growth potential. Here's the story behind SaaSySales👇🏽
My journey to sales consulting
When I started SaaSySales, I wasn't a "tenured" sales professional, but I had eight years of experience in the B2B SaaS startup space. I got my hands dirty, wore multiple hats and worked cross-departments. I <was/am> a do-er, who went from a recent grad brought in as the first sales hire, to a top-tier employee consistently earning President's Club status. Each company I worked for in my early career either got acquired and scaled, or raised additional round(s) of funding, scaled, then eventually IPO-ed.
Read: I was in the right place at the right time, early sales at early stage. And I enjoyed every minute of it.
I was finally climbing the corporate ladder and learned to excel at the middle-manager level 😵‍💫🤥🤢. Middle management was my limbo. During this time, I realized that while I enjoyed the early startup sales stage—the scrappy, ambiguous, iterative nature of starting and trying to establish a sales machine, I did not enjoy these later stages. I compare it to the baby/toddler stage progressing to pre-teen/adolescence. With company progression came an explosion of employees, hierarchy, politics. Not my jam. Not my niche.
Moreover, though I thoroughly loved startups and working with founding teams, the idea of work/life balance was a joke. It was a mental roller coaster, ridden with corporate guilt of not being all-in, exacerbated with mom guilt of not being enough. I had a newborn who was being raised by a nanny. Something had to change.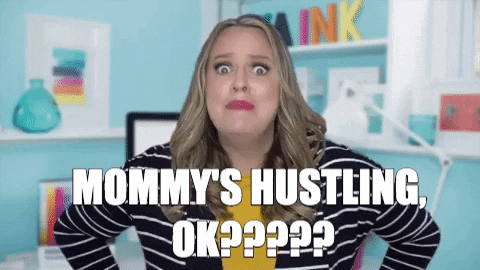 SaaSySales was a way that I could have it all 🦸🏻‍♀️ I could strictly work with early-stage startups, use my superpowers to work directly with founders and support underrepresented groups, and most importantly, have more valuable quality time with my children.
Founding SaaSySales
Building on my experience of kickstarting high-velocity sales programs, I focused my own business on my niche: early-stage companies, typically less than 15 people total, that are transitioning from CEO-led sales to building out a sales team and a scalable process.
I take Seed - Series A companies, and over the course of two to six month engagements, I provide varying levels of service depending on the support each founding team needs to be ready for its first full-time hire.
Depending on the engagement, this often means coaching, building out sales systems, working cross-department while building sales processes, focusing on top-of-the-funnel lead generation, or even optimizing full end-to-end sales cycles. My strength is maxing out this transitional learning phase, and then hiring someone to take over the sales role long-term.
I've found my niche and I'm enjoying every minute of it. Next month, SaaSySales will hit its 5 year mark 🥳
How do companies benefit from a sales consultant?
Sales consultants are invaluable because they bring an outside perspective and can quickly hone in on opportunities for growth (or barriers that are holding the company back).
While you may be in the trenches with the minutiae of your business every day, our job is to come in, take a holistic view of what's working and what isn't working, then get our hands dirty and iterate, iterate, iterate, during the transition from CEO-led sales to Sales Team and Sales Machine.
Sales consultants should be thought of as short term investment for long term success.
Success stories
To give you a better idea of the work we do at SaaSySales, let me share a couple of our recent success stories.
One project was with Avo, a woman-led, product analytics company that recently closed a Seed round with YC and GGVC. I joined as the company was shifting its business strategy, pivoting from high-touch enterprise sales to a product-led approach. The initial scope was to help with qualifying and discovery, but it rapidly expanded to include the full spectrum of the sales funnel: strategy, contracts, and even delivering at weekly all-hands meetings. I'm grateful to have the flexibility to expand the scope of my work, and delighted when CEOs acknowledge the true benefit of working with SaaSySales: allowing them bandwidth to focus on the CEO role.
SaaSySales was originally brought in for a two-month engagement, but it quickly turned into nine months. I found and helped hire a new Director of Sales from one of the leading companies in their industry, and they're much better positioned for success today.
Another project is with Aquifer Motion, a minority-led company in the media and entertainment space who recently entered Techstars Austin Accelerator Program. The CEO was preparing to close the next round of funding, so asked for help with sales coaching and an audit. During our first two months, we discovered they were spending at least half of their time managing deals and CEO-ing, leaving very little time for filling the top of their sales funnel to ensure a healthy pipeline.
To solve this imbalance, we hired, trained, and managed a new Business Development rep to take over prospecting, in order for the CEO to focus on what they do best: deal management. Now we're in the process of hiring the first full time Founding Sales lead.
The core takeaways from these two examples—and every engagement SaaSySales has taken on so far—is our ability to provide an outside perspective into the potential growth opportunities, offload the Sales Hat to help build the Sales Machine, and ultimately leave the companies in a better position for closing the next round of funding and scaling their business.
As I'm entering SaaSySales' 5th year of business, I want to say THANK YOU to our customers, friends, and family🙏 😊 I am eternally grateful and humbled for all the support. Special shout out to the ultimate connectors who are constantly opening doors to startup sales and recruitment, Dan Portillo and Mitch Morando, my first startup boss and mentor, Guy Marion, and the people who encouraged me to be my own boss Fae Peralta and Cody Voellinger.
Connect with me or email me at eillen@saasysales.com if this post resonates with you and your company. And stay tuned for what's next at SaaSySales. Within these next few months we'll have an exciting update to share with you!